In over 40 years of activity, the Morelli Group has also brought  its professional contribution to the various post-earthquake reconstructions
In over 40 years of activity, the Morelli Group has also brought  its professional contribution to the various post-earthquake reconstructions,
during which, analyzing the emergency housing problems in the face of difficult climatic conditions, it committed itself to create efficient Emergency Housing Modules  for crisis situations in general, intended for housing and for the storage of materials and activities.
The technical characteristics developed by the SAFEHOUSE then expanded their use in the most diversified sectors by offering modular technical spaces for:
COMPANIES (offices, changing rooms, guard rooms, warehouses …)
TRADE FAIRS, MARKETS, TOURIST INFOPOINT
ACTIVITY KIOSKS (newsagents, florists, bars …)
LIVESTOCK
SPORT CENTERS (changing rooms, technical spaces …)
HOLIDAY HOUSES / BUNGALOWS
INSULATED CAR BOX / GARAGE
GREENHOUSES (crops / gardening)
SHELTER for housing electronic devices
TECHNICAL MODULES (various kinds of services))
Added values ​​of SAFEHOUSE structures:
ease and speed of assembly (max in 2/3 hours)
transport and storage dimensions reduced in size EASY-PACK (L 4 m x H 1.5 m x P 1.2 m)
possibility of installation even on unprepared ground
ease of movement after assembly
modular structure with 9 sqm base unit (suitable for a family of max 4 people), extendable according to needs
isolation
finish and living comfort
landscape integration
durability and reliability over time
high weather resistance
A simple and innovative solution as an emergency shelter, developed by using in a new concept materials already known for their reliability and tested in the construction sector, designed to be reused and reassembled for multiple applications, while maintaining the characteristics of a definitive structure and lasting, with limited timing and costs.
…Building WITH and not FOR
The housing module is offered in the essential emergency configuration, leaving local workers the job and economic opportunity of the secondary "finishing" activities.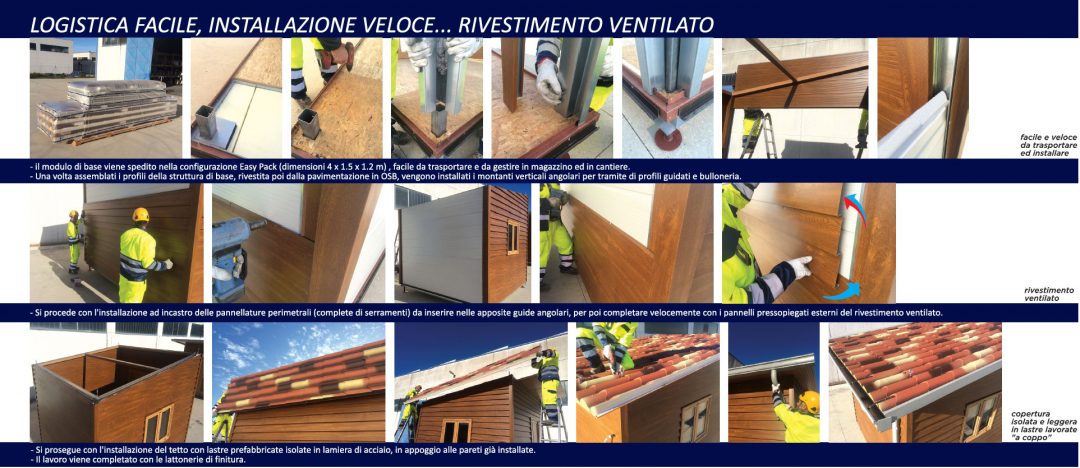 A modern and efficient construction technology with traditional aesthetics:
Structure … strong and versatile
Base frame and load-bearing corner pillars made of press-folded metal profiles in top quality hot-galvanized steel sheet, open section to avoid internal condensation and corrosion phenomena
Raised off the ground and leveling for even unprepared grounds, suitable for persistent rain conditions
Roof attachment points for handling the module even after assembly
Walls … solid and light
Monolithic self-supporting modular sandwich panels with thickness from 40 to 100 mm, tested for multiple activities in the field of prefabricated buildings, cold-formed by carbon steel coils sheets coated with a hot-dip galvanized layer UNI EN 10326, with mechanical characteristics D.M. of 01/14/2008 and tolerances UNI EN 10143.
Joints between panels with proven continuous profile in special interlocking PVC for quick and easy assembly, with greater fixing stability and resistance over time.
External laminate in steel; on request in aluminum, copper, stainless steel, corten.
External organic coating with standard hot pre-painting cycle in polyester EN 10169 (on request different coatings such as plasticized for food, PVDF for animal husbandry or food sector activities).
Insulation … efficient for every season
In polyurethane foam with high density 40 kg / mc – 40/100 mm, CFC free UNI EN 13165 (on request reaction to fire class E with panel class B S3 UNI UN 13501-1 or higher class B S2 UNI EN 13501- 1).
Basic thermal transmittance coefficient 0,50 / 0,20 W / sqm K EN ISO 694.
External insulating interspace with covering ventilated aluminum slat-panel (natural wood finish or other colors on request), which allows natural convective ventilation and cooling of the wall in summer, while in winter the air layer present prevents dispersion thermal for the benefit of a higher internal temperature.
Roofing  … integrated aesthetics
Structural metal panels with the refined aesthetics of the traditional tile in 0.7 mm thickness, laminated in galvanized and prepainted steel, with different possible chromatic finishes.
Greater integration of landscape aesthetics.
High values ​​of thermal insulation of the internal layer in polyurethane, thickness from 40 to 100 mm with coeff. basic thermal transmittance 0.30 / 0.20 W / smqK EN ISO 694.
Walkable, with structural strength and snow load of 334 kg / sqm (L = 1500 mm with deformation 1/200 of the light L with safety factor 1.5).
100% waterproof in rainy conditions.
Internal finish in natural wood color for better habitability.
Roof lifting eyebolts.
Floor … insulated and airy
Made of high quality OSB type 18 mm thick waterproof chipboard with special resins and PVC resin decking.
Doors and windows … double-chamber technical
In prepainted aluminum of various finishes, in light oak base, with double glazing.
Tinsmithery … infiltration-proof
For total impermeability, in pre-painted aluminum available in multiple finishes.